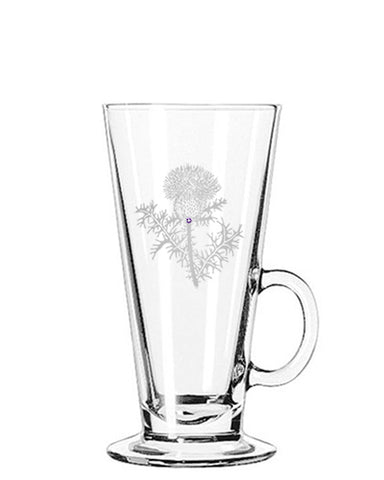 Thistle Irish Coffee Glasses
Thistle Irish Coffee Glass
Your after-dinner beverage will look amazing served in this high-quality tempered Irish Coffee glass. Perfect for coffee, tea, mulled cider, hot toddies, and more – the tall, tapered shape leaves plenty of room for toppings on your treat! A wide variety of uses make this a great gift for friends and family members (especially when accompanied by a homemade beverage mix, or bottle of their favorite cream or liqueur!)
Hand-carved with our Healy Signature Collection Thistle, each glass features a detailed carving highlighted by a sparkling amethyst-colored crystal for brilliant light reflection. 
The Thistle is the national flower of Scotland, a well-recognized emblem of Scottish pride. According to folklore, this prickly flower once prevented an invading army from ambushing a sleeping group of Scottish warriors. From that point on, the Thistle was honored as a symbol of bravery, courage and loyalty. 

Our glassware has an exceptional, hand-crafted finish you will be proud to give or to own. Each design is deeply hand-carved and polished by Master Glass Artisan Billy Healy, finished with sparkling Healy Signature crystals, and elegantly gift-boxed with an about the artist card and description of the design.

Sold in sets of 2
6" tall, 8.5 oz.
Lead-free tempered glass
Made in the USA