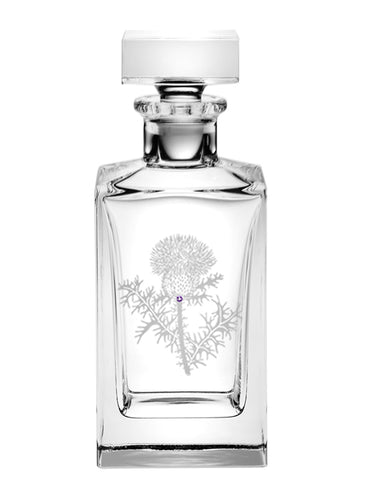 Thistle Square Decanter
Thistle
Premium Square Decanter
A classically-styled square decanter, weighing in at approximately 5 lbs of solid crystal! This substantial piece holds 30 oz. of your favorite whiskey or cordial, and makes a distinct statement in any home bar. Made of premium lead-free crystal, with a tight seal to prevent evaporation. These decanters make wonderful special occasion gifts for birthdays, graduations and retirements. 
Hand-carved with our Healy Signature Collection Thistle, featuring a detailed carving highlighted by a sparkling amethyst-colored crystal for brilliant light reflection. 
The Thistle is the national flower of Scotland, a well-recognized emblem of Scottish pride. According to folklore, this prickly flower once prevented an invading army from ambushing a sleeping group of Scottish warriors. From that point on, the Thistle was honored as a symbol of bravery, courage and loyalty. 

Healy Glass Artistry is the market leader in creating beautiful glassware to complement your favorite spirits. Our decanters have an exceptional, hand-crafted finish you will be proud to give or to own. Each design is deeply hand-carved and polished by Master Glass Artisan Billy Healy, finished with sparkling Healy Signature crystals, and elegantly gift-boxed with an about the artist card.

9.5" tall, 30 oz.
Lead-free European Crystal