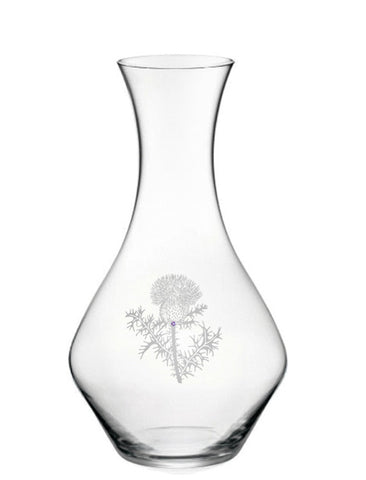 Thistle Wine Carafe
Thistle Wine Carafe
A gorgeous Carafe, perfect for serving your favorite vino or sangria! This 40 oz. lead-free crystal carafe is well-balanced with a heavy base, and makes an impressive serving piece or lovely housewarming or host gift, especially when paired with a favorite bottle of wine. Decanting your wine not only creates an enjoyable presentation, but also allows wine to breathe, improving its flavor and aroma.
Hand-carved with our Healy Signature Collection Thistle, featuring a detailed carving highlighted by a sparkling amethyst-colored crystal that creates lovely light reflections. 
The Thistle is the national flower of Scotland, a well-recognized emblem of Scottish pride. According to folklore, this prickly flower once prevented an invading army from ambushing a sleeping group of Scottish warriors. From that point on, the Thistle was honored as a symbol of bravery, courage and loyalty. 

Healy Glass Artistry is the market leader in creating beautiful glassware to complement your favorite wines and spirits. Our decanters have an exceptional, hand-crafted finish you will be proud to give or to own. Each design is deeply hand-carved and polished by Master Glass Artisan Billy Healy, finished with sparkling Healy Signature crystals, and elegantly gift-boxed with an about the artist card and description of the design.

10" tall, 40 oz. 
Lead-free
Made in the USA
Browse our entire line of Decanters & Carafes!