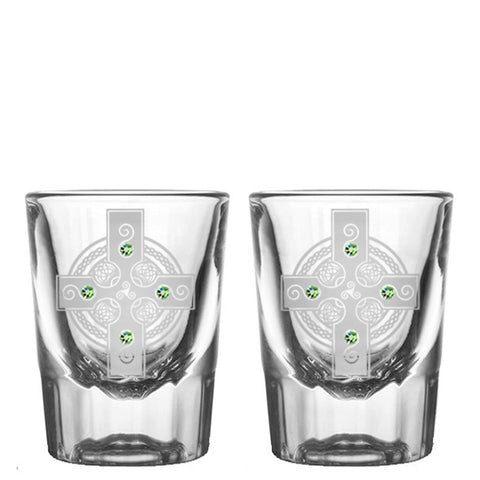 Celtic Shield Shot Glasses
Set of 2 Glasses

Everyone loves a great shot glass, and ours stand up to your expectations! A solid 2 oz. shot, perfect for whiskey, vodka, cordials, liqueurs and more!
Each glass is hand-carved with our Healy Signature Celtic Shield, featuring intricate knotwork and detailing, highlighted by four sparkling green crystals, adding brilliant light reflection to the piece.
Combining the Celtic Cross with a traditional Celtic battle Shield, the Celtic Shield is an emblem of protection, bravery, and strength; warding off negative forces. The Cross represents harmony, connection and unity, with four cardinal points intersecting and joined by a circle, symbolic of the eternal cycle of life and rebirth.
Our glassware has an exceptional, hand-crafted finish you will be proud to give or to own. Each design is deeply hand-carved and polished by Master Glass Artisan Billy Healy, finished with sparkling Healy Signature crystals, and elegantly gift-boxed with an about the artist card and description of the design.
2.75" tall, 2 oz.
Lead-free
Made in the USA

To see more pieces featuring this design, visit our Celtic Shield collection!
View all of our Shot Glass designs here!