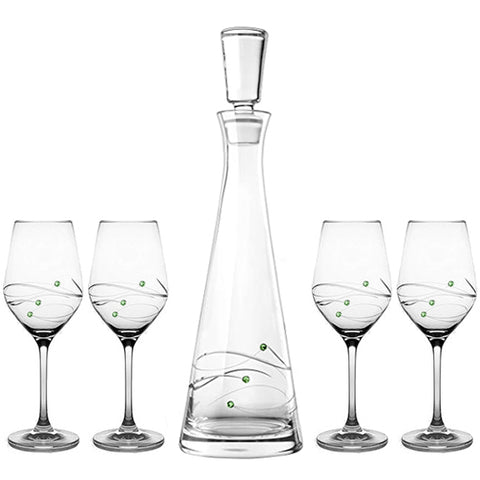 Windswept Wine Decanter Set
Windswept Wine Decanter Set
This set includes four elegant, handmade 12.5 oz. Wine Glasses and a modern angled Decanter for your favorite Wine or Sangria.
Featuring the elegant Windswept Pattern, embellished with a trio of sparkling green Healy Signature crystals and a deeply carved design encircling each glass.
Inspired by Ireland's wild, windy hillsides, covered in sparkling dew! 
Our glassware has an exceptional, hand-crafted finish you will be proud to give or to own. Each set of glasses comes elegantly gift-boxed with an about the artist card.

Sets of 5 Pieces: 1 Decanter and 4 Wine Glasses

Wine Glasses: 8.75" tall, 12.5 oz.
Decanter: 16" tall, 33 oz.
Lead-free