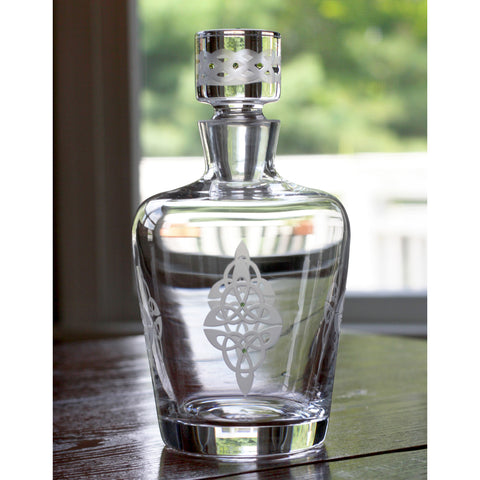 Celtic Reflections Empire Decanter
Celtic Reflections Empire Decanter
An elegant shape, fit to highlight 40 oz. of your favorite spirit! This gracefully curved European mouth-blown crystal decanter is hand-carved with a quartet of our Celtic Reflections design, features our Celtic Braid around the stopper, and is finished with sparkling green crystal accents! An eye-catching presentation piece, sure to be admired by anyone who sees it.
Add matching Celtic Braid Double Old Fashioned glasses to create a set that will have an impressive presence in any collection!
The Trinity Knot and Celtic Braid are ancient Celtic symbols with no beginning and no end. Unending and unbroken, they represent eternal love, eternal life, and the enduring connection between all living beings. 
Healy Glass Artistry is the market leader in creating beautiful glassware to complement your favorite spirits. Our decanters have an exceptional, hand-crafted finish you will be proud to give or to own. Each design is deeply hand-carved and polished by Master Glass Artisan Billy Healy, finished with sparkling Healy Signature crystals, and elegantly gift-boxed with an about the artist card and description of the design.

8.75" tall x 4.5"
40 oz.
Lead-free