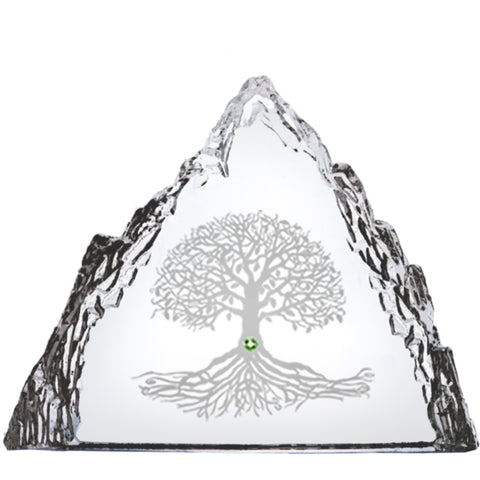 Tree of Life Crystal Sculpture
Tree of Life Crystal Sculpture
A beautifully heavy sculpted piece of crystal, hand-carved with our Healy Signature Tree of Life, including a Trinity Knot in the base of the roots and embellished with a sparkling green crystal to add beautiful light reflections to the piece. A perfect accent piece for a credenza, desk, or shelf.
The Tree of Life can be found in many cultures throughout the world, and held a place of high significance in Celtic symbolism. Its roots are deeply embedded in the earth, while the branches reach upward, connecting Heaven and Earth. Representing rebirth, renewal, and the lifeforce of all living things, the Tree of Life provides sustenance and protection, nurturing and encouraging growth and resilience.  
Our crystal sculptures have an exceptional, hand-crafted finish you will be proud to give or to own. Each design is deeply hand-carved and polished by Master Glass Artisan Billy Healy, finished with sparkling Healy Signature crystals, and elegantly gift-boxed with an about the artist card and description of the design.

4.5" H x 5.5" W x 1.75" D
2.6 lbs.