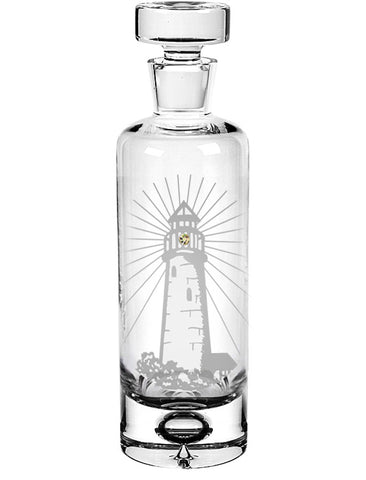 Lighthouse Cylinder Decanter
Lighthouse Cylinder Decanter
This beautiful Cylinder Decanter is suitable for storing your favorite Whiskey, Scotch, Bourbon, mixed drinks, and more. A sleek style that holds 28 oz., made of high-quality lead-free crystal, with a tight seal to prevent evaporation. This decanter makes a perfect gift for special occasions, particularly when packaged with a favorite spirit!
Hand-carved with our Healy Glass Artistry Lighthouse, complete with a sparkling golden crystal in the lamp, adding lovely light reflection to the piece. 
The Lighthouse is a symbolic light, guiding and protecting all who see it. 
Healy Glass Artistry is the market leader in creating beautiful glassware to complement your favorite spirits. Our decanters have an exceptional, hand-crafted finish you will be proud to give or to own. Each design is deeply hand-carved and polished by Master Glass Artisan Billy Healy, finished with sparkling Healy Signature crystals, and elegantly gift-boxed with an about the artist card.

11" tall, 28 oz
Lead-free European Handmade Crystal