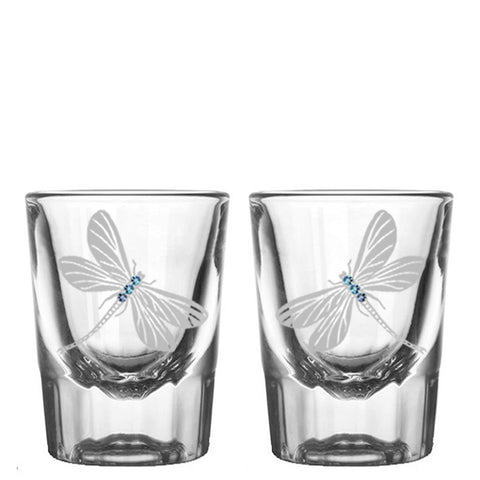 Dragonfly Shot Glasses
Set of 2 Glasses

Everyone loves a great shot glass, and ours stand up to your expectations! A solid 2 oz. shot, perfect for whiskey, vodka, cordials, liqueurs and more!
Each glass is hand-carved with our fanciful Healy Signature Dragonfly, embellished with shimmering sky blue crystals which reflect the light beautifully.

Known for its beautiful iridescent coloring and unique way of flying, the Dragonfly holds special meaning to cultures around the world. Most often associated with prosperity, good fortune and motivation, it inspires others to enjoy and live life to the fullest.
Our glassware has an exceptional, hand-crafted finish you will be proud to give or to own. Each design is deeply hand-carved and polished by Master Glass Artisan Billy Healy, finished with sparkling Healy Signature crystals, and elegantly gift-boxed with an about the artist card.
2.75" tall, 2 oz.
Lead-free
Made in the USA
To see more pieces featuring this design, visit our Dragonfly collection!
View all of our Shot Glass designs here!