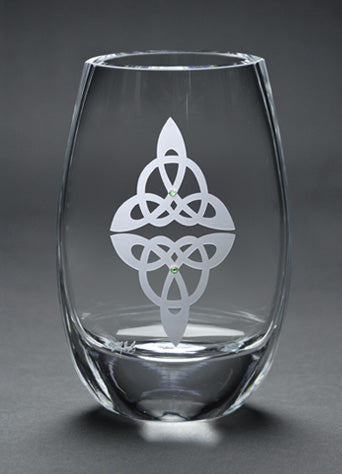 Celtic Reflections Teardrop Vase
Celtic Reflections Teardrop Vase
This beautifully-sculpted, handmade oval Teardrop Vase stands 7.5 inches high, has lovely clarity, and is heavily weighted on the bottom.
Hand-carved with our Celtic Reflections design, featuring our Healy Signature Trinity Knot; a pair of elegant, deeply carved knots embellished with sparkling green crystals at their center, bringing beautiful light reflection to the piece.
The Trinity Knot is an ancient Celtic symbol with no beginning and no end. Unending and unbroken, it represents eternal love, eternal life, and the enduring connection between all living beings. 
Our vases have an exceptional, hand-crafted finish you will be proud to give or to own. Each design is deeply hand-carved and polished by Master Glass Artisan Billy Healy, finished with sparkling Healy Signature crystals, and elegantly gift-boxed with an about the artist card and description of the design.

7.5" tall, 5" wide