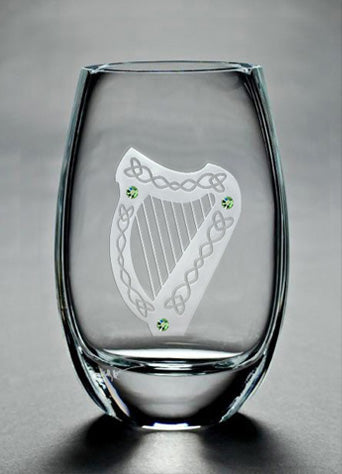 The Harp Teardrop Vase
The Harp Teardrop Vase 
This beautifully sculpted, handmade oval Teardrop Vase stands 7.5 inches high, has lovely clarity, and is heavily weighted on the bottom. Hand-carved with our graceful Healy Signature Harp, embellished with a trio of sparkling green crystals which add beautiful light reflection to the piece.
The Harp is the official National emblem of Ireland. In medieval times, the harp was considered the most important musical instrument in Ireland, Scotland, and throughout the Gaelic region. Harpers were prestigious cultural figures, widely respected among kings and chieftains. The music of the harp has long been thought to embody the spirit of Ireland.
Our vases have an exceptional, hand-crafted finish you will be proud to give or to own. Each design is deeply hand-carved and polished by Master Glass Artisan Billy Healy, finished with sparkling Healy Signature crystals, and elegantly gift-boxed with an about the artist card and description of the design.

7.5" tall, 5" wide