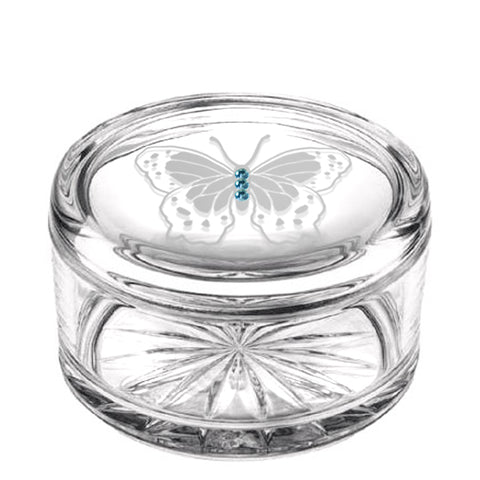 Butterfly Crystal Jewelry Box
Butterfly Crystal Jewelry Box
A beautiful crystal jewelry or keepsake box, featuring a star pattern on the base. These are lovely as Valentines Day presents, and are wonderful gifts for family members and friends.
Hand-carved with our whimsical Healy Signature Butterflies, embellished with shimmering multicolored crystals, creating lovely light reflections..
The Butterfly is a classic symbol of change, transformation and self-realization, a transcendent spirit connected to both the earth and the heavens.
Our glassware has an exceptional, hand-crafted finish you will be proud to give or to own. Each design is deeply hand-carved and polished by Master Glass Artisan Billy Healy, finished with sparkling Healy Signature crystals, and elegantly gift-boxed with an about the artist card and description of the design.

2.25" Tall x 4" Diameter
Made in the USA