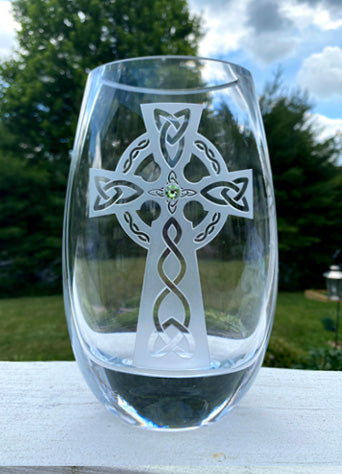 Celtic Cross Teardrop Vase
Celtic Cross Teardrop Vase
This beautifully-sculpted, handmade oval Teardrop Vase stands 7.5 inches high, has lovely clarity, and is heavily weighted on the bottom.
Hand-carved with our Healy Signature Celtic Cross, featuring elegant Celtic knotwork symbolic of eternal life, having no beginning and no end. The detailed carving is complete with a sparkling green crystal at the cross's center, adding brilliant light reflection to the piece.
Celtic Crosses can be found throughout Ireland, Scotland, and all of the Celtic Isles, and are a symbol of Celtic culture and heritage. From ancient stone carvings still standing in the Irish countryside to the intricate, richly-decorated High Crosses memorializing significant places and people, Celtic Crosses embody enduring strength and unity, representing the connections we make with each other and the connection between heaven and earth.
Our vases have an exceptional, hand-crafted finish you will be proud to give or to own. Each design is deeply hand-carved and polished by Master Glass Artisan Billy Healy, finished with sparkling Healy Signature crystals, and elegantly gift-boxed with an about the artist card and description of the design.

7.5" tall, 5" wide


Shop our other vases!