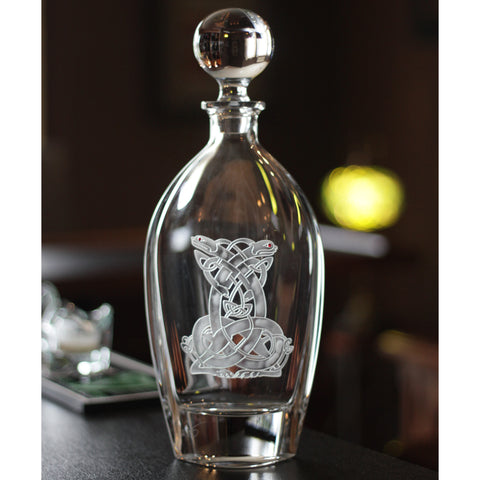 Celtic Hounds Chieftain Decanter
Named after the Irish clan heads of old, this tall decanter has a stately silhouette and a gorgeous round stopper - it's sure to catch the eye of guests and visitors! Made from premium lead free crystal, with a tight seal to prevent evaporation. These decanters make wonderful special occasion gifts for birthdays, graduations and retirements. 
Carved with our Celtic Hounds design, each featuring a gleaming crystal eye. 

Man's best friend, ever-faithful. Celtic Hounds symbolize hunting, healing, and a connection to the Otherworld in Celtic legends. They were the traditional guardian animals of roads and crossways and are believed to protect and guide those who become lost.
Healy Glass Artistry is the market leader in creating beautiful glassware to complement your favorite spirits. Our decanters have an exceptional, hand-crafted finish you will be proud to give or to own. Each design is deeply hand-carved and polished by Master Glass Artisan Billy Healy, finished with sparkling Healy Signature crystals, and elegantly gift-boxed with an about the artist card.

12.5" tall, 24 oz. 
Lead free European handmade crystal

View more style options in our Decanters & Carafes Collection!