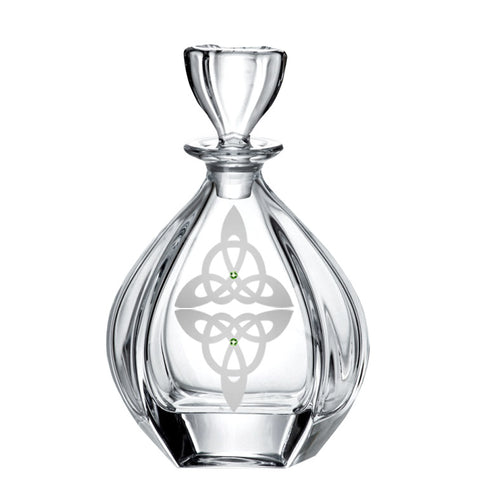 Celtic Reflections Grace Decanter
A gracefully curved, fluted decanter, perfect for whiskey, brandy or cognac! Made of premium lead free crystal, with a tight seal to prevent evaporation. These decanters make wonderful special occasion gifts for birthdays, graduations and retirements.
Hand-carved with our Celtic Reflections design, featuring our Healy Signature Trinity Knot; a pair of elegant, deeply carved knots embellished with sparkling green crystals at their center, bringing beautiful light reflection to each piece.
The Trinity Knot is an ancient Celtic symbol with no beginning and no end. Unending and unbroken, it represents eternal love, eternal life, and the enduring connection between all living beings. 
Healy Glass Artistry is the market leader in creating beautiful glassware to complement your favorite spirits. Our decanters have an exceptional, hand-crafted finish you will be proud to give or to own. Each design is deeply hand-carved and polished by Master Glass Artisan Billy Healy, finished with sparkling Healy Signature crystals, and elegantly gift-boxed with an about the artist card and description of the design.

9.25" tall, 28 oz. 
Lead free European handmade crystal

Visit our Decanters & Carafes Collection to see more styles!