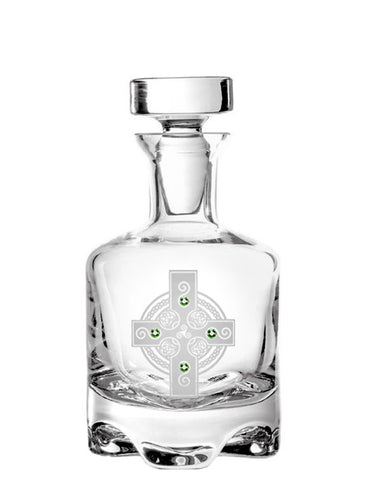 Celtic Shield 28oz. Footed Decanter
Celtic Shield
Premium Footed Decanter
This heavy, high-quality 28 oz. Footed Decanter is perfect for storing your favorite whiskey or cordial, and makes a distinct statement in any home bar. Made of premium lead-free crystal, with a tight seal to prevent evaporation. These decanters make wonderful special occasion gifts for birthdays, graduations and retirements. 
Hand-carved with our Healy Signature Celtic Shield, featuring intricate knotwork and detailing, highlighted by four sparkling green crystals, adding brilliant light reflection to the piece. Add matching Double Old Fashioned glasses to create a set that will have an impressive presence in any collection!
Combining the Celtic Cross with a traditional Celtic battle Shield, the Celtic Shield is an emblem of protection, bravery, and strength; warding off negative forces. The Cross represents harmony, connection and unity, with four cardinal points intersecting and joined by a circle, symbolic of the eternal cycle of life and rebirth.
Healy Glass Artistry is the market leader in creating beautiful glassware to complement your favorite spirits. Our decanters have an exceptional, hand-crafted finish you will be proud to give or to own. Each design is deeply hand-carved and polished by Master Glass Artisan Billy Healy, finished with sparkling Healy Signature crystals, and elegantly gift-boxed with an about the artist card and description of the design.

10" tall, 28 oz.
Lead-free European Crystal
To see more pieces featuring this design, visit our Celtic Shield collection!
Shop our entire line of Decanters & Carafes.