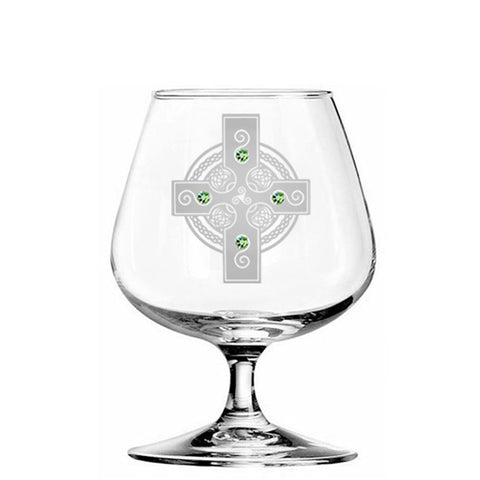 Celtic Shield Brandy Glasses
Celtic Shield Brandy Glass
With an elegant design and beautiful clarity, this gently-curved snifter fits comfortably in your hand, and is perfect for enjoying Brandy, Cognac, or Bailey's Irish Cream—  and wonderful for a Belgian ale or craft brew, as well!
Hand-carved with our Healy Signature Celtic Shield, featuring intricate knotwork and detailing, highlighted by four sparkling green crystals, adding brilliant light reflection to each glass.
Combining the Celtic Cross with a traditional Celtic battle Shield, the Celtic Shield is an emblem of protection, bravery, and strength; warding off negative forces. The Cross represents harmony, connection and unity, with four cardinal points intersecting and joined by a circle, symbolic of the eternal cycle of life and rebirth.
Our glassware has an exceptional, hand-crafted finish you will be proud to give or to own. Each design is deeply hand-carved and polished by Master Glass Artisan Billy Healy, finished with sparkling Healy Signature crystals, and elegantly gift-boxed with an about the artist card and description of the design.

Sold in sets of 2

5" tall, 14 oz. 
Lead-free 
Made in the USA

To see more pieces featuring this design, visit our Celtic Shield collection!