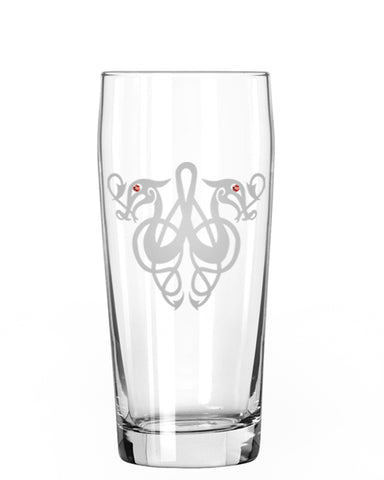 Chieftain Pint Glass
Chieftain Pint Glass
Our 20 oz. Imperial Pint Glass is an essential addition to any bar, offering ample room for your brew while leaving a generous amount of head space. The perfect shape for serving beer and ale on any occasion, great for porters and Irish stouts!
Hand-carved with our Healy Signature Chieftain Dragon.
In Celtic mythology, the dragon was believed to be of a world that was parallel to the physical world, and was considered a protector of the Earth and of all living things. Dragons are a powerful Celtic symbol, so revered by the Celts that they were adopted as a symbol of the power, bravery and wisdom of their leaders, or chieftains. 
Our glassware has an exceptional, hand-crafted finish you will be proud to give or to own. Each design is deeply hand-carved and polished by Master Glass Artisan Billy Healy, finished with sparkling Healy Signature crystals, and elegantly gift-boxed with an about the artist card and description of the design.

7" tall, 20 oz. 
Lead-free 
Made in the USA


Browse our entire line of beer & ale glasses.