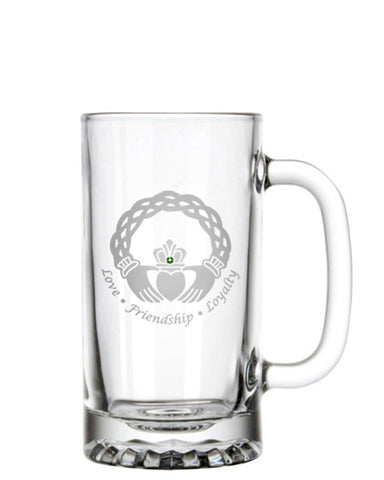 Celtic Claddagh Beer Mug
Celtic Claddagh Beer Mug
This classic tankard-style Beer Mug features a cut-glass base and a pour that's "just right!" A sturdy, comfortable vessel for your favorite ale or lager, stout or craft brew, and perfectly portable for sharing a drink with friends!
Hand carved with our Healy Signature Celtic Claddagh and finished with a sparkling green crystal at its center, adding brilliant light reflection to the piece.
A classic, well-known Irish emblem of love, the Claddagh Ring originated in Ireland and dates back to the early 16th Century. The design contains three parts: The hands signify friendship, the heart represents love, and the crown symbolizes loyalty. These elements, connected by a braided ring, come together to represent Unity, Faithfulness, and Trust.
Our glassware has an exceptional, hand-crafted finish you will be proud to give or to own. Each design is deeply hand-carved and polished by Master Glass Artisan Billy Healy, finished with sparkling Healy Signature crystals, and elegantly gift-boxed with an about the artist card and description of the design. 
6" tall, 16 oz. 
Lead-free 
Made in the USA


To see more pieces featuring this design, visit our Celtic Claddagh collection!
See more Irish beer mugs, Celtic Claddagh glassware, or stemware & barware.