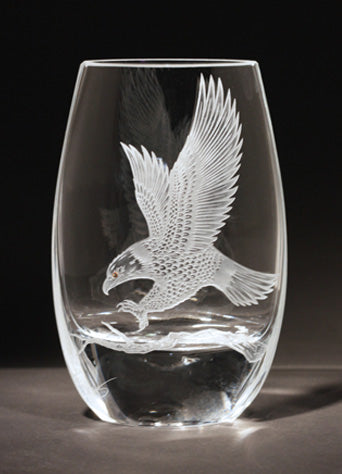 Soaring Eagle Teardrop Vase
Soaring Eagle Teardrop Vase
This beautifully-sculpted, handmade oval Teardrop Vase stands 7.5 inches high, has lovely clarity, and is heavily weighted on the bottom. Hand-carved with our Healy Glass Artistry Soaring Eagle, complete with a gleaming golden crystal eye. The design is double-cut, for a multi-dimensional effect and added texture.
The majestic, keen-eyed eagle represents strength, courage, confidence and determination.  It is a well-known symbol of freedom and power, and is considered an embodiment of the American spirit.
Our vases have an exceptional, hand-crafted finish you will be proud to give or to own. Each design is deeply hand-carved and polished by Master Glass Artisan Billy Healy, finished with sparkling Healy Signature crystals, and elegantly gift-boxed with an about the artist card.

7.5" tall, 5" wide