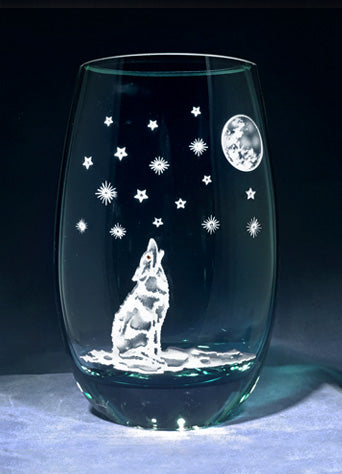 Howling Wolf Blue Teardrop Vase
Howling Wolf Teardrop Vase
This beautifully-sculpted, handmade oval Teardrop Vase stands 7.5 inches high, has lovely clarity with deep midnight blue coloring, and is heavily weighted on the bottom.
Featuring the Healy Glass Artistry Howling Wolf design: A lone wolf with a gleaming golden eye howls beneath the full moon, under a blanket of sparkling blue crystal stars.  
At one with Nature and the cycle of life, death and rebirth, the wolf is symbolic of intelligence, self-reliance and freedom. As fierce and loyal protectors and guardians of their packs, wolves also embody the importance of family, community and connections with others.
Our vases have an exceptional, hand-crafted finish you will be proud to give or to own. Each design is deeply hand-carved and polished by Master Glass Artisan Billy Healy, finished with sparkling Healy Signature crystals, and elegantly gift-boxed with an about the artist card.

7.5" tall, 5" wide

Also available in clear. 
Please note: Because this item is hand-crafted, the color may vary from piece to piece.