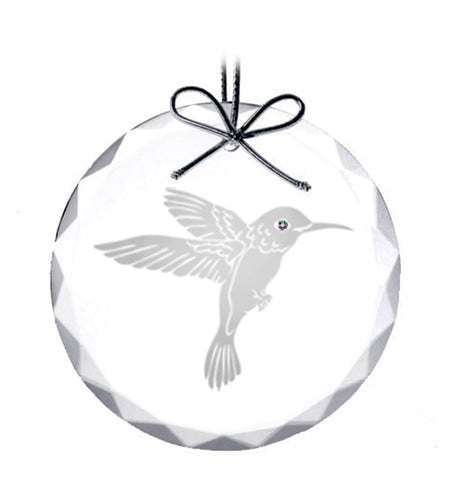 Hummingbird Ornament
Hummingbird Ornament
A Healy Glass Artistry Classic! These lovely facet-cut glass ornaments reflect light beautifully—  they make wonderful suncatchers to hang in a window year-round, and are perfect as thoughtful gifts to bring even more sparkle to the holidays.
Hand-carved with Healy Glass Artistry's Hummingbird, featuring a detailed carving finished with a sparkling crystal eye that reflects the light beautifully.
The playful hummingbird symbolizes enjoyment of life and lightness of being. Swift, tireless and adaptable, it shows us we can be capable of the most amazing feats! Whether solo, in pairs or in a group, the Hummingbird is sure to bring joy to all who see it.
Our ornaments have an exceptional, hand-crafted finish you will be proud to give or to own. Every design is deeply hand-carved and polished by Master Glass Artisan Billy Healy, finished with sparkling Healy Signature crystals, and elegantly gift-boxed with a silver string and an about the artist card.

3.5" x 3.5"
Made in the USA