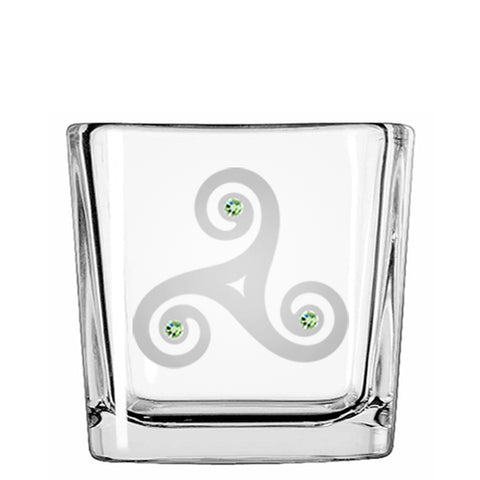 New Grange Votive
New Grange Votive
Light up your home or wedding reception with hand-carved glass candle-holders! These heavy, clear, clean-lined votives are perfect for so many occasions and purposes! When lit with a candle or tea-light, they give off a lovely glow. Also wonderful as a holder for potpourri or sweets – or add a small bouquet of flowers for a unique and modern centerpiece!
Hand-carved with our Healy Signature New Grange design, inspired by the spiral stone carvings at Newgrange. Each spiral features a sparkling green crystal at its center, bringing light and brilliance to the piece.
The triple-spiral, or triskele, is an ancient symbol found throughout Europe, most famously carved upon the ancient megalithic monument Newgrange in County Meath, Ireland. The triple-spiral's meaning can be interpreted in many ways. Its design expresses perpetual movement and contains three interconnected parts; because of this, many people have come to associate it with the earth, sea and sky, and with the eternal cycle of life, death and rebirth.  
Our glassware has an exceptional, hand-crafted finish you will be proud to give or to own. Each design is deeply hand-carved and polished by Master Glass Artisan Billy Healy, finished with sparkling Healy Signature crystals, and elegantly gift-boxed with an about the artist card and description of the design.

3"H x 3"W
Made in the USA

To see more pieces featuring this design, visit our New Grange collection!