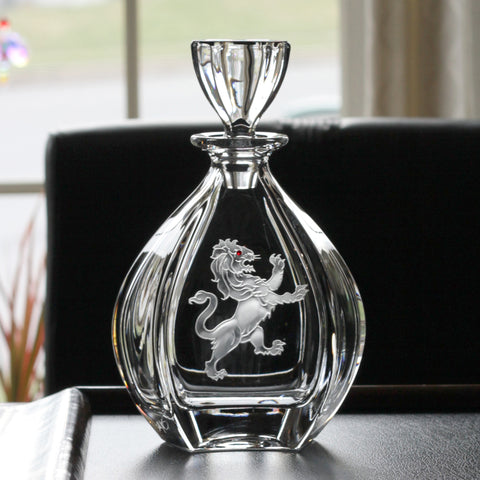 Rampant Lion Grace Decanter
A gracefully curved, fluted decanter, perfect for whiskey, brandy or cognac! Made of premium lead free crystal, with a tight seal to prevent evaporation. These decanters make wonderful special occasion gifts for birthdays, graduations and retirements. 
Hand-carved with Healy Glass Artistry's Rampant Lion. 
Healy Glass Artistry is the market leader in creating beautiful glassware to complement your favorite spirits. Our decanters have an exceptional, hand-crafted finish you will be proud to give or to own. Each design is deeply hand-carved and polished by Master Glass Artisan Billy Healy, finished with sparkling Healy Signature crystals, and elegantly gift-boxed with an about the artist card.

9.25" tall, 28 oz. 
Lead free European handmade crystal

Visit our Decanters & Carafes Collection to see more styles!