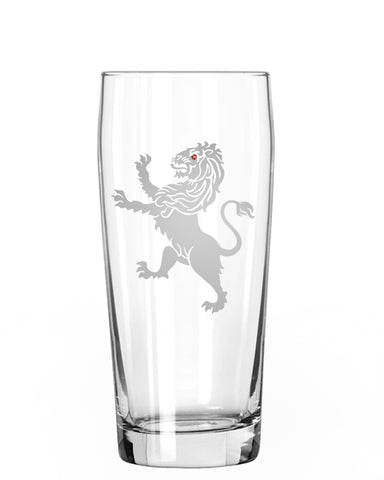 Rampant Lion Pint Glass
Rampant Lion Pint Glass
Our 20 oz. Imperial Pint Glass is an essential addition to any bar, offering ample room for your brew while leaving a generous amount of head space. The perfect shape for serving beer and ale on any occasion, great for porters and Irish stouts!
Hand-carved with our Healy Signature Collection Rampant Lion. 
The lion is a common charge in heraldry. It traditionally symbolises bravery, valour, strength, and royalty, because historically it has been regarded as the king of beasts.  The Rampant Lion also symbolizes the ancient royal house of Scotland, and is still used today on the Royal Banner of the Royal Arms of Scotland.
Our glassware has an exceptional, hand-crafted finish you will be proud to give or to own. Each design is deeply hand-carved and polished by Master Glass Artisan Billy Healy, finished with sparkling Healy Signature crystals, and elegantly gift-boxed with an about the artist card.

7" tall, 20 oz. 
Lead-free 
Made in the USA