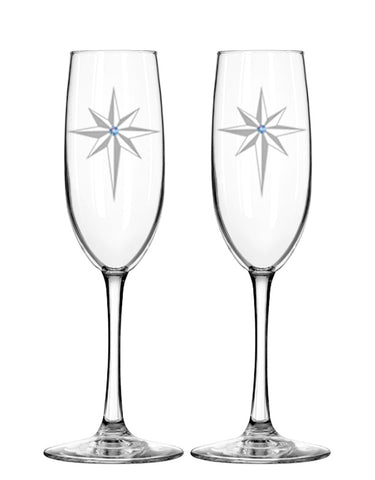 Star of Bethlehem Champagne Flutes
Star of Bethlehem Champagne Flutes

These lovely 8 oz. Champagne Flutes have a classic design created with elegance in mind! Ideal for champagnes, sparkling wines and ciders, they're sure to bring sparkle to your table! Wonderful for toasting any special occasion or event, they make a perfect gift for couples and newlyweds.
Hand-carved with our Healy Signature Star of Bethlehem, each finished with a sparkling blue crystal reminiscent of the twilight sky.
A lighted Star can be seen each night on top of South Mountain in the city we proudly call home: Bethlehem, Pennsylvania. The original star was first lit on December 7th, 1937 in a grand ceremony to celebrate the Christmas City.
Our glassware has an exceptional, hand-crafted finish you will be proud to give or to own. Each design is deeply hand-carved and polished by Master Glass Artisan Billy Healy, finished with sparkling Healy Signature crystals, and elegantly gift-boxed with an about the artist card and description of the design.

Sold in sets of 2

9.25" tall, 8 oz.
Lead-free
Made in the USA