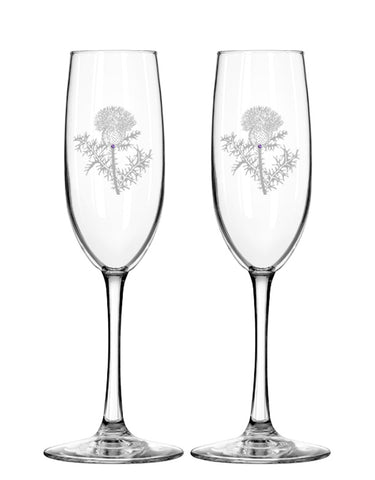 Thistle Champagne Flutes
Thistle Champagne Flutes

These lovely 8 oz. Champagne Flutes have a classic design created with elegance in mind! Ideal for champagnes, sparkling wines and ciders, they're sure to bring sparkle to your table! Wonderful for toasting any special occasion or event, they make a perfect gift for couples and newlyweds.
Each glass is hand-carved with our Healy Signature Collection Thistle, featuring a detailed carving highlighted by a sparkling amethyst-colored crystal for brilliant light reflection. 
The Thistle is the national flower of Scotland, a well-recognized emblem of Scottish pride. According to folklore, this prickly flower once prevented an invading army from ambushing a sleeping group of Scottish warriors. From that point on, the Thistle was honored as a symbol of bravery, courage and loyalty. 

Our glassware has an exceptional, hand-crafted finish you will be proud to give or to own. Each design is deeply hand-carved and polished by Master Glass Artisan Billy Healy, finished with sparkling Healy Signature crystals, and elegantly gift-boxed with an about the artist card.

Sold in sets of 2

9.25" tall, 8 oz.
Lead-free
Made in the USA