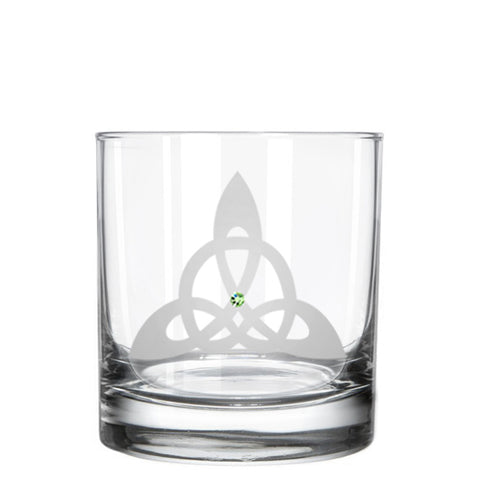 Trinity Knot Whiskey Glasses
Trinity Knot Whiskey Glass
The Classic Double Old Fashioned Glass! These 11 oz. tumblers have a pleasant weight and excellent clarity, paired with old-school style. Perfect for your favorite Irish whiskey, Scotch whisky, rye or bourbon– either on the rocks or neat, and excellent for muddled cocktails!
Hand-carved with our Healy Signature Trinity Knot, featuring an elegant, deeply carved knot embellished with a sparkling green crystal at its center, bringing beautiful light reflection to each glass.
The Trinity Knot is an ancient Celtic symbol with no beginning and no end. Unending and unbroken, it represents eternal love, eternal life, and the enduring connection between all living beings. 
Our glassware has an exceptional, hand-crafted finish you will be proud to give or to own. Each design is deeply hand-carved and polished by Master Glass Artisan Billy Healy, finished with sparkling Healy Signature crystals, and elegantly gift-boxed with an about the artist card and description of the design.

Sold in sets of 2

3.5" tall, 11 oz.
Lead-free
Made in the USA