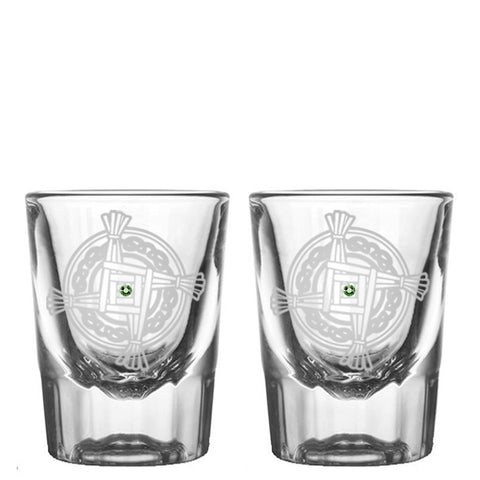 St. Brigid's Cross Shot Glasses
Set of 2 Glasses

Everyone loves a great shot glass, and ours stand up to your expectations! A solid 2 oz. shot, perfect for whiskey, vodka, cordials, liqueurs and more!
Each hand-carved with our Healy Signature Collection St. Brigid's Cross, featuring a ring of beautiful Celtic knots, representing both a shield and eternity, and complete with a sparkling green crystal at its center, reflecting the light beautifully. 
The St. Brigid's Cross is traditionally woven from river reeds or rushes, and represents blessings and protection of the home. The Feast of St. Brigid is celebrated on Feb 1st, and each year a new cross is woven for the home and blessed with the following prayer:
"May the blessing of God, Father, Son and Holy Spirit be on this Cross and on the place where it hangs and on everyone who looks upon it."
Our glassware has an exceptional, hand-crafted finish you will be proud to give or to own. Each design is deeply hand-carved and polished by Master Glass Artisan Billy Healy, finished with sparkling Healy Signature crystals, and elegantly gift-boxed with an about the artist card and description of the design.
2.75" tall, 2 oz.
Lead-free
Made in the USA
To see more pieces featuring this design, visit our St. Brigid's Cross collection!
View all of our Shot Glass designs here!